Contractors & Partners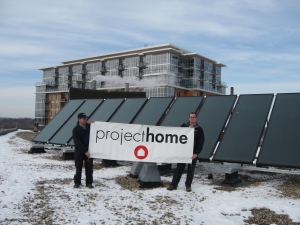 Project Home operates programs in partnership with contractors and vendors who supply goods and services. The Low-Income Weatherization Program and our home repair programs, including the Dane County Rehabilitation Program, are our biggest programs for which we regularly seek contractors and vendors.
Weatherization Program
We secure contractors and vendors for the low-Income Weatherization Program according to procurement standards established by the Division of Energy Services, Department of Administration, State of Wisconsin. Bids and proposals are solicited periodically, generally on a two-year cycle or as needed for special projects.
Click for terms and conditions links:
http://homeenergyplus.wi.gov/category.asp?linkcatid=623&linkid=122&locid=25
Home Repair Programs
We secure contractors for our home repair programs according to procurement standards established by the federal HOME and CDBG programs as administered by the Dane County Department of Human Services and City of Madison Community Development Block Grant office.
To Become a Project Home Contractor:
Please call or email to receive an application packet to be included in the pool of qualified contractors. You must have an email address. For more information, contact Bob Weirough, Home Repair Coordinator, at bobw@projecthomewi.org.
Minimum Contractor Requirements to Bid:
State Certified Lead Renovator
State Certified Lead Safe Company
W-9 Form
Living Wage Statement
Excluded Parties List System (will be sent)
Certification of Liability Insurance including Workman's Comp
Dwelling Contractor Qualifier Certification
Dwelling Contractor Certification
---