Our Mission
Mission and Scope of Work at Project Home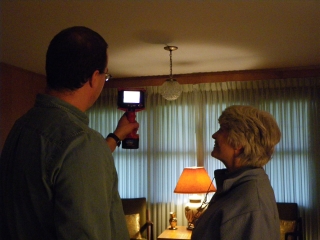 Project Home, a local not-for-profit, has assisted low- to moderate-income residents for 40 years.
If you are income eligible and have significant energy losses, our Weatherization Program's skilled crews can weatherize homes, replace inefficient refrigerators, furnaces, hot water heaters, and install bath fans for families in Dane and Green County, WI. Nearly a 1,000 families increase their comfort and save money on their energy bills each year.
Our minor home repair program serves residents who are income eligible with many smaller repairs including accessibility modifications like ramps and doorways, for a reduced rate. Our Major Home Repair program can repair or replace roofs, furnaces and other more expensive projects through deferred or forgivable loans. If you have lead issues and young children in your home, ask about our LEAD Abatement program.
Through our volunteer programs, we provide free major home repairs through Hammer with a Heart and free exterior painting through the Paint-a-thon to benefit low-income homeowners in Dane County, WI. Both of these programs have crews of skilled and community volunteers.
Project Home launched The Housing Center in 2009 to provide free one-stop shopping on housing issues to benefit renters and homeowners. We typically host 6-10 free basic home maintenance classes each year. In 2011, Project Home partnered with GreenPath Debt Solutions to add free monthly First-Time Home Buyers Education classes. Whether you are a soon-to-be homeowner or have been one for 40 years, there are classes that can be helpful in increasing comfort and saving money and energy. The Home Buyers Round Table and MG&E helps support The Housing Center to keep these programs free of charge.
In addition, Project Home owns an affordable apartment complex, a facility for people with HIV/AIDS, and a program to help one lower-income family buy a renovated duplex for an income property.
After many years of requests from the community, Project Home is now offering home weatherization improvements that serve everyone at all income levels for a fee. The profits from this Social Enterprise Weatherization Program will be reinvested into our non-profit services to benefit those who can not afford these improvements.
Testimonials From Customers
These are just a few excepts from cards, letters and emails that Project Home receives regularly (weekly) from its weatherization and home repair customers, and participants from the annual volunteer events - Hammer with a Heart and Paint-a-thon.
Weatherization Program
"Project Home,
It is with a grateful heart that I sincerely thank you for all the work done at my home. I have lived here 58 years and now I feel I can safely live out my years here. Thank you so very much! The work crews were fantastic! I wish you continued success." Sincerely, Lois S. Madison
"I can't thank Project Home enough for helping us out with our weatherization. Without your help we never would have gotten thru the one and a half years my husband was jobless. Thanks again." Mike and Sue Z., Marshall
"I just want to let you office folks know that the guys that worked on our home were professional, courteous, friendly, kid-friendly, discreet, and all round good guys. The only way I knew they were there was because of the odd noise in the attic from tools, etc. I'm still trying to get used to the new light bulbs. So I wouldn't tempt myself to go back to the 'old' ones I donated the box of bulbs to the Deerfield Food Pantry to go to folks that might need them. Thanks again!" Deb D., Deerfield
"I'm writing this letter to thank your organization for the work you did on my home. It already is so much warmer and lots less drafty! Special thanks go out to Jean, Nathan, Ben, Nate, Scott and Flo. These folks went the extra mile and then some. They insulated my attic space and even made storage for me! My basement is not nearly as frightening. It's warm and dry. They did little things (fixed latch on screen door and toilet) for me that I didn't know how to fix but it meant the world to me. I think I'm not so afraid of winter this year. [It] should be a much brighter year and I have you to thank." Julie M., Monroe
(Excerpts from a 3 page, single spaced letter) "Dear Ms. Matyka: "...I truly cannot say enough about (your energy auditor and weatherization crew) - Steve, Juan, Hill, Jason, Jerry and Nathan. Over the years, we have worked with service people in our home and I can honestly state that I felt more comfortable and totally at ease with your staff than I have ever felt, particularly once my husband left for work. I want to thank Project Home for existing and for helping us during a very difficult time in our lives. We could not be more thankful for the assistance to help us reduce our energy costs and our use of fossil fuels. Last winter, I kept the house at 55 degrees during the day and 50 at night. We were freezing. Our MG&E bill reached more than $315.00 two months in a row. Energy Services informed us about Project Home. Thank you for being there for people like us, who through no fault of our own find ourselves unemployed due to being laid off. I was constantly wondering how long it would be before I could not pay the mortgage and we lose our home. [ ] your organization truly made the difference between losing our home and continuing to live in our home of 23 years." Sue B., Madison
Paint-a-thon Program
"There are no words to express how thankful I am that my home was painted by your volunteers through your Paint-a-thon program on August 23. It was overwhelming to see so many volunteers doing so much to make a huge difference to my home and daycare.
Everyone in the neighborhood stops to tell me how nice it looks. The parents and children in my daycare agree that it looks great! I am proud to own my own home even though maintenance is a struggle for me. I am so appreciative of the fantastic paint job my home received and just want to say, thank you, thank you, thank you from the bottom of my heart." Ruth L. Madison
"I wish to express my sincere gratitude to you and Project Home staff for selecting me as one of your recipients for Paint-a-thon. Trying to keep my home maintained and looking nice as I age is very important to me and the help is needed and appreciated. I also wish to send a special thank you to all of the volunteers who gave their time and energy to participate in this much needed project. A great job was accomplished! We are so fortunate to have Project Home and their programs in Dane County." Lorraine T., Madison
"Please tell all the volunteers for me how much I appreciate their wonderful efforts (for Hammer with a Heart in May and exterior painting in August). Project Home has taken a major stress away from me. I don't know if people really know the fear and worry that someone in my position feels when they can't do the things they used to. It can very hard to ask for help. You and your group have relieved me of such a worry and with nothing but kindness in your hearts. Thank you so much." Ray J., Verona
Minor Home Repair Program
"We wish to express our sincere gratitude to Project Home as well as commend three of your employees for their exemplary work. Regan was exceptional in both her level of professionalism, efficiency, and sincere concern as we sought a solution for a hot water heater with absolutely no funds to purchase one. Julio also repaired locks, replaced a ceiling light, a fan hood, and broken faucets. We named them the 'dynamic duo'! With great appreciation," Irene and Stephen, Stoughton
Hammer with a Heart Program
"Thank you so very much for helping my mother Mary get a new roof and all of the other home tasks. It is sometimes difficult for me to be so far from my mom, but thanks to all your volunteers hard work and effort, I am reminded that there are wonderful people in this world who are helping her and others. Thank you from the bottom of my heart. I appreciate everything you have done." Warmly, Anna
"Except perhaps when new, this house has never looked so good. I can't tell you how thankful Marie and I are to you and the crew. I hope that you stop down sometime (Stoughton) and look at the house. Thanks again from the bottom of our hearts." Jerry and Marie, Stoughton, (they received new siding, soffits & windows)
---