2022 is Hammer with a Heart's 20th Year!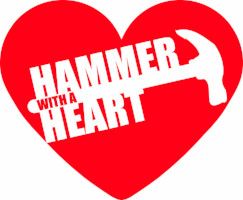 Since 2002, Hammer with a Heart has provided home repairs and maintenance to improve families' safety, comfort and health in their homes through the help of generous sponsors and partners.
Together we've repaired 130 Dane County homes and improved a 47-unit building of section 42 housing!
---
Hammer with a Heart is being retooled for 2022. The mission to make essential home repairs for struggling homeowners will continue, but the initiative will now be focused on supporting repair projects throughout the year, rather than during a volunteer event. For decades, Project Home staff have evaluated, planned and executed crucial repair projects for area seniors, veterans, single-income families and our neighbors with health issues or disabilities; now Hammer with a Heart sponsors will support the rising costs of this work.
This is an evolution of the program to fit the current climate and to achieve the best results for the homeowners we serve. 
---
A Big thank you to our 2022 Project Sponsors!
Email outreach@projecthomewi.org with interest.