Hammer with a Heart -- Sept. 25, 2021
Thank you again to all of our Hammer with a Heart partners for their commitment to this community event!
- Jason O. Hafeman  /  Hammer with a Heart Coordinator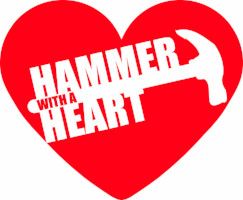 Since 2002, Hammer with a Heart has provided home repairs and maintenance to improve families' safety, comfort and health in their homes through the help of generous sponsors and volunteers.
Together we've repaired 130 Dane County homes and improved a 47-unit building of section 42 housing!
These incredible groups led projects again in 2021:
J.H. Findorff & Son Inc.
Carpenters Union - Local #314
We appreciate their support and commitment to Hammer with a Heart!
---
A Big thank you to our sponsors in 2021!
Email outreach@projecthomewi.org with interest.
Project Sponsors
Materials Sponsors
Media Partner


Lunch Donor