Returning hot water to struggling homeowners in Dane & Green counties!
Since January 2014, we've returned hot water to 58 area homes, but funding is down for this effort. If you are without hot water and live in Dane or Green County (Wisconsin) contact us to see if we can help.
DONATE NOW to assist those without hot water, or send a check to Project Home!  Please note "Water Heaters" on the memo line.
WE NEED YOUR SUPPORT in 2019! Contact Jason at 608-246-3737 ext. 2104 for more information.
Community Members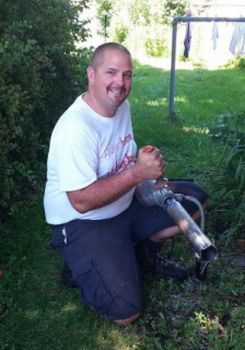 WHY WE STARTED THE PROGRAM....
Each year, we receive numerous calls from senior citizens, veterans, single-parent families and people with significant health issues or disabilities, in our community, looking for help to replace their non-functioning water heaters. This is a health and safety related problem for these homeowners and a significant expense that is usually not covered under other government programs.
Here is an interview with NBC15 about the Water Heater Replacement Program.
Click here for a story by Channel 3, in Madison, about the start of the program.
Newspaper