The Hammer with a Heart family came through again in 2019!
*Our teams had to work around the April 27th snowfall, but they stuck with us and made a big impact for area seniors!
- Thank you to everyone who was prepared to help on 4/27 and a huge thank you to our partners for being flexible and committed to completing our 2019 projects! -Jason Hafeman | Hammer with a Heart Coordinator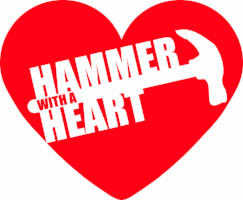 Hammer with a Heart provides major home repairs and maintenance, and improves families' safety, comfort and health in their homes through the help of generous sponsors, skilled volunteers and community volunteers. Since 2002, together we've repaired 127 Dane County homes!
**With all of the issues caused by excessive rain in 2018, this year we will put even more of an emphasis on correcting water issues at homes, with landscaping projects and gutter maintenance, repairs and replacements.**
What is Hammer with a Heart? Here's a 5-minute overview (Courtesy TVW)
These incredible groups will lead projects again in 2019:
J.H. Findorff & Son Inc.
Carpenters Union - Local #314
Ideal Builders, Inc.
Spectrum
Group Health Cooperative of South Central WI
We are so proud to work with them on this community building event!


Thank you 2019 Hammer with a Heart Partners!
*Contact Jason at outreach@projecthomewi.org to learn about how to become part of the Hammer with a Heart family!
Program Sponsor
House Sponsors
Materials Sponsors
Media Partner
Lunch Donor
Thank You again to all of our partners for Hammer with a Heart 2019 -- (courtesy NBC15 WMTV)